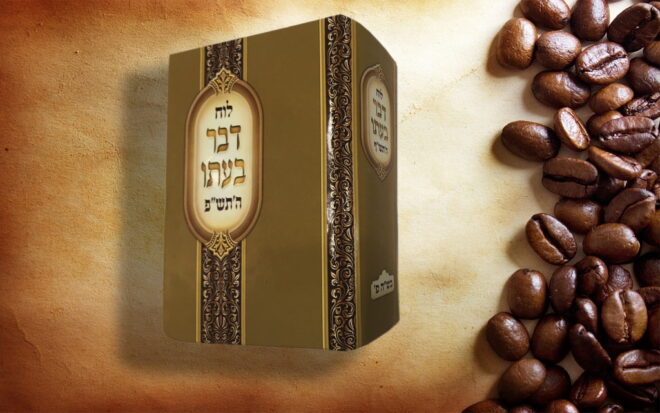 With the start of the new year 5780, I have been asked the following question numerous times. What is the proper Hebrew spelling of the Jewish year 5780 (2019/2020). Is it spelled תש"פ or תש"ף? This is the first time in 30 years that we have this "burning" question, with the previous one being 5750 (1989/1990) תש״נ or תש״ן. The question arises when the Hebrew spelling of the Jewish year ends with a Hebrew final form (also known as end, "ende" or straight (versus bent)) letter of מנצפ״ך. This happens in years ending with a 20, 40, 50, 80 or 90. According to the Academy of the Hebrew Language's article שנת תש״ף regarding the spelling of the year, the final form תש״ף is the correct spelling. However, things are not that simple. The excellent 1,700+ page calendar לוח דבר בעתו / Luach Davar Be'ito published annually by Rabbi Mordechai Genut, straddles this by showing one form on the front cover and the other on the spine. In the introduction, Rabbi Genut writes:
ישבנו על המדוכה כיצד לכתוב תש״ף או תש״פ. כדי לרצות בעלי 2 הדעות, נקטנו (כאשר נקטנו בלוח ה׳תש״ן) שבשער הכריכה יכתב ה׳תש״פ ואילו בכריכת הגב יכתב ה׳תש״ף.
In the calendar he published an 11-page essay on the subject by Rabbi Yaakov Matalon who provides the following reasons to use the תש"פ version:
Rabbi Matalon ends with:
מסקנתנו היא, שמִּבֵּין שני האֳפנים, עדיף לכתוב באות רגילה, לא-סופית: תש״פ, תש״צ. מכּל השיקולים נמצא שזה האופן העדיף. מצד שני, נראה שאין מקום לטענה שהכותב באות-סופית, תש״ף, תש״ץ וכדומה, טועה הוא. אופן כתיבה זה, למרות חסרונותיו, מקובל אצל רבים, ואין מי שרואה בו טעות.
In short, neither is incorrect, but the better of the two is the non-final form תש״פ.
Formatting the Year in the KosherJava Zmanim API
The HebrewDateFormatter class in the KosherJava zmanim library coded years ago produced the final form of תש״ף (with the exception of single character years such as the year 5050). This logic was included in all ports that I am aware of. With a recent commit, the option for formatting years ending in מנצפ״ך was added, and the default changed to produce the non-final form version of תש״פ. Detailed information can be seen in the HebrewDateFormatter API documentation.